Crock Pot White Bean Chicken Chili
Prep + Cook Time

4

Hours

Servings

6

Calories

479

Nutritional Information

8 g

Fat

2 g

Sat. Fat

46 g

Carbs

14 g

Fiber

5 g

Sugars

61 g

Proteins
Ingredients
2 Lbs Georges Farmers Market® Boneless Skinless Chicken Breast cut in to 1″ pieces
1 1/2  ea. Lg Onions, finely chopped
1 ea. Med. Jalapeño, seeded, finely chopped
4 ea. Garlic cloves, finely chopped
2 ea. (4-ounce) cans diced green chiles, preferably "fire-roasted"
2 tsp Ground Cumin
1 tsp Ground Coriander
3 tsp Kosher Salt, plus more
1/2 tsp. freshly ground pepper, preferably white, plus more
6 cups homemade chicken stock or low-sodium chicken broth
1 1/2 cups frozen corn, preferably "fire-roasted"
3 (15-ounce) cans white beans, preferably cannellini, white kidney, or Great Northern, drained, rinsed
Sour cream, cilantro, lime wedges, and cornbread (for serving)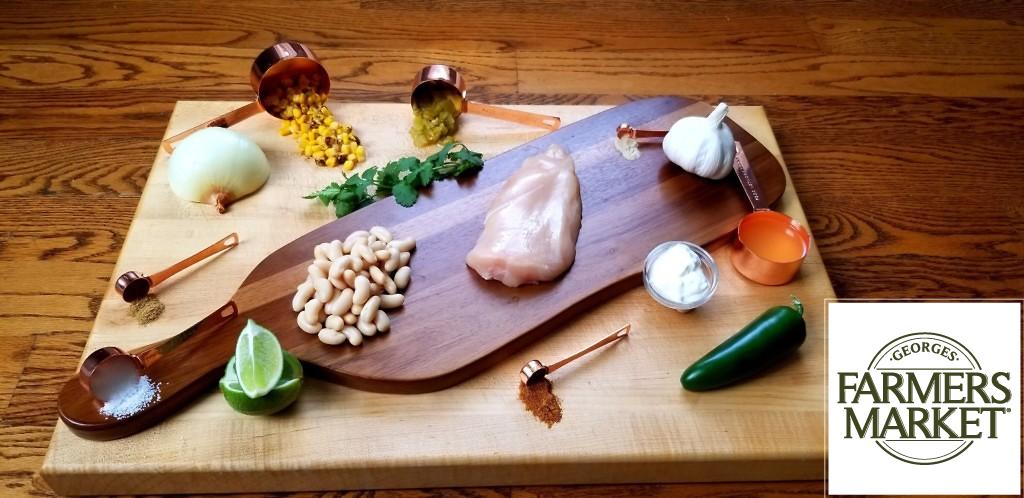 Preparation
Combine chicken, onions, jalapeño, garlic, chiles, cumin, coriander, 3 tsp. salt, and 1/2 tsp. pepper in slow cooker. Pour chicken stock over, cover, and cook on high 3 1/2 hours or low 6–8 hours.
To finish chili, add beans and corn; cover and cook on high 30 minutes. Taste and season with salt and pepper, if needed. Shred chicken in slow cooker with 2 forks.
Divide chili among bowls; top with sour cream and cilantro. Serve with lime wedges and cornbread alongside.