Grilled Garlic Lemon Chicken
Prep + Cook Time

260

Minutes

Servings

6

Calories

394

Nutritional Information

32 g

Fat

5 g

Sat. Fat

2 g

Carbs

0 g

Fiber

1 g

Sugars

29 g

Proteins
Ingredients
2 lbs. Georges Farmers Market® Boneless Skinless Chicken Breasts
4 ea. Garlic Cloves, crushed with the flat blade of a knife
1 tsp. Sea Salt
1/2 Cup Fresh Lemon Juice
3/4 Cup Extra-Virgin Olive Oil
1 tsp Sweet Paprika
Freshly Ground Black Pepper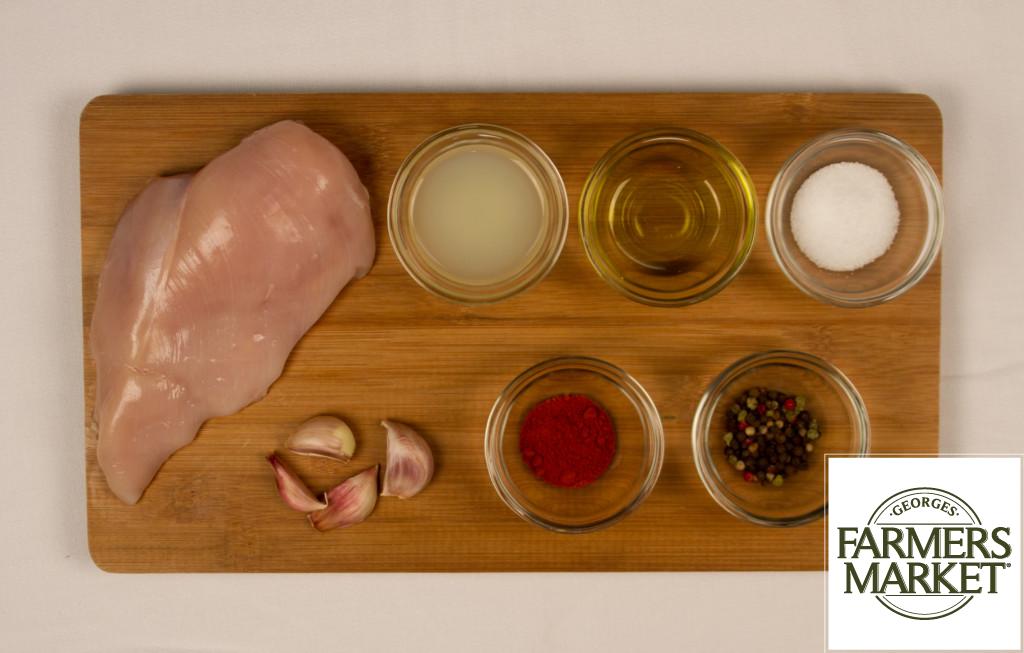 Preparation
Cut each chicken breast in half and place in a medium-sized bowl.
Chop the garlic coarsely and in a small bowl crush it with the salt, using the back of a spoon, until you have a smooth paste. Stir in the lemon juice, oil, paprika, and pepper. Beat well with a fork and pour the marinade over the chicken pieces. Mix well, using your hands, and turn the pieces to coat them liberally with the marinade. Cover and refrigerate for 4 or 5 hours or overnight.
Heat your grill to Med/High
Use the marinade remaining in the bowl to baste the chicken frequently as it cooks.
Grill for 8-10 minutes or longer on each side, turning each piece once.
Use a thermometer to check for a minimum internal temperature of 170°F.
Serve hot.