Prep + Cook Time

32

Minutes

Servings

4

Calories

243

Nutritional Information

5 g

Fat

1 g

Sat. Fat

11 g

Carbs

0 g

Fiber

9 g

Sugars

36 g

Proteins
Ingredients
1 Lb. Georges Farmers Market® Boneless, Skinless Breasts
1/2 Cup Lemon Juice
1/4 Olive Oil
1 Ea. Clove of Garlic Minced
1 tsp. Sea Salt
1/2 tsp. Dried Oregano
2 Tbsp. Honey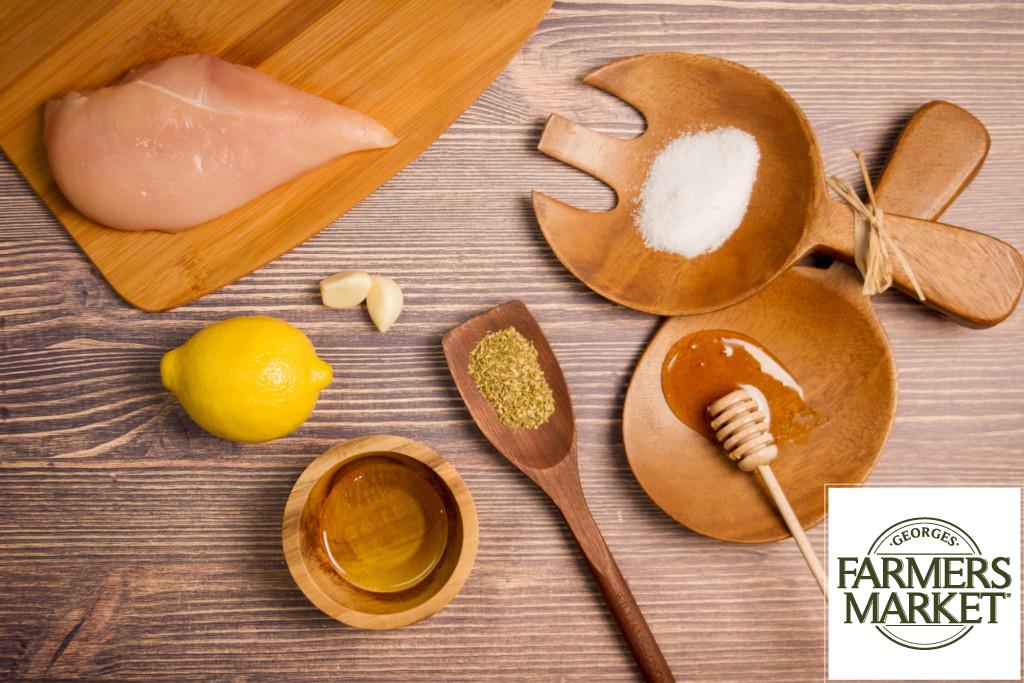 Preparation
Turn the oven to the broil setting (approx. 450-500°). Place the chicken in a well-seasoned cast iron skillet. Broil for 15 minutes. Flip the chicken over – broil for another 15 minutes.
Make the sauce by whisking the lemon juice, olive oil, garlic, sea salt, and oregano together.
Dip each chicken piece in the sauce and return to the hot oven for a few minutes. The exterior of the chicken should get crispy and golden brown.
When the chicken is done, set aside. Pour out the drippings from the pan (reserve them!), wipe out any large residual chicken bits, and put the cast iron back on a warm burner. Add a few tablespoons of the reserved chicken drippings and the remaining sauce + honey. Simmer for just a few minutes until the sauce is bubbly and hot. Pour the remaining sauce over the chicken and sprinkle with fresh parsley.