Grilled Honey Balsamic Chicken
Prep + Cook Time

Minutes

Servings

4

Calories

326

Nutritional Information

7 g

Fat

1 g

Sat. Fat

14 g

Carbs

0 g

Fiber

13 g

Sugars

48 g

Proteins
Ingredients
2 lbs. Georges Farmers Market® boneless, skinless chicken breasts
1 tsp. Garlic
3/4 tsp. Onion powder
2 tbsp. Balsamic vinegar
2 tbsp. Honey
2 tbsp. Ketchup
1/4 tsp. Black pepper
1/2 tsp. Paprika
1/2 tsp. Salt
Oils & Vinegars
1 tsp. Olive oil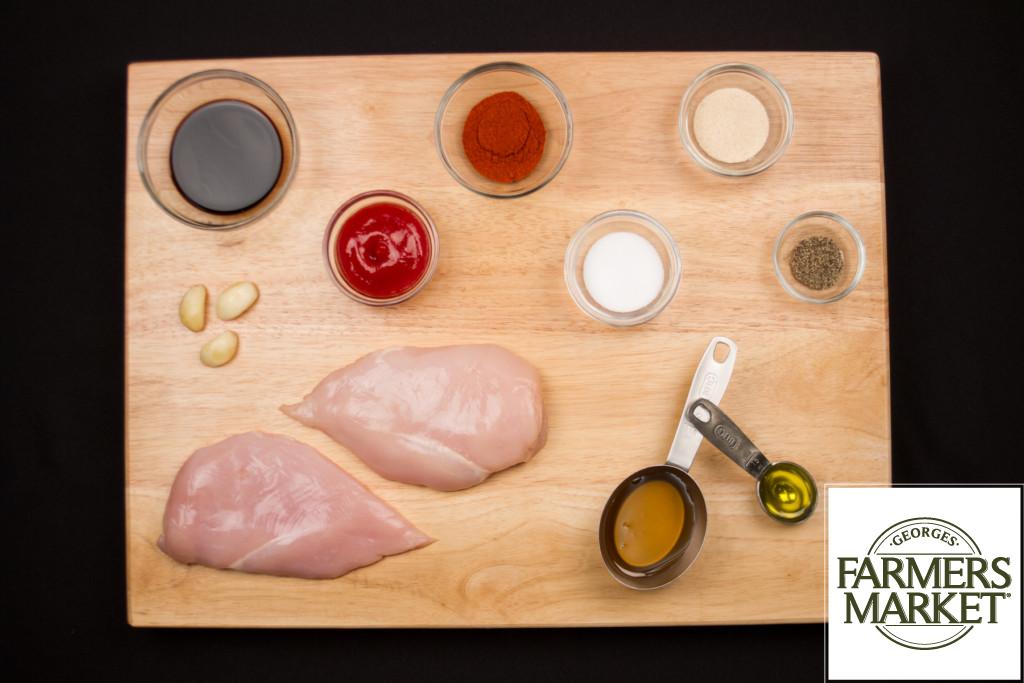 Preparation
Chicken Seasoning–
Place olive oil, salt, black pepper, paprika, and onion powder in a Ziploc® bag. Add chicken and toss to coat, covering chicken with spices and oil.

For the Honey Balsamic Marinade–
In a small bowl, whisk together balsamic vinegar, ketchup, garlic, and honey.
Divide the sauce in half. Pour one half in the bag with the chicken and store the other half in a sealed container (or bowl covered in plastic wrap).
Shake bag with chicken so that the meat is covered in the marinade.
Seal bag and refrigerate for at least 30 minutes or up to 4 hours. Also store sealed marinade in the refrigerator until ready to use.

Putting it all Together–
When ready, remove chicken from Ziploc® bag.
Discard bag and marinade that the chicken soaked in.
Grill your chicken per typical cook time, usually 3-5 minutes per side (until Internal temp reaches 165°)
While chicken cooks, take the marinade that was stored separately and heat in the microwave for 30-45 seconds.
Once chicken is cooked, drizzle or brush remaining marinade on top. Serve immediately.