Grilled Jalapeno Popper Chicken
Prep + Cook Time

45

Minutes

Servings

5

Calories

599

Nutritional Information

27 g

Fat

13 g

Sat. Fat

25 g

Carbs

1 g

Fiber

19 g

Sugars

60 g

Proteins
Ingredients
10 ea. Georges Farmers Market® boneless, skinless chicken breasts
5 ea. Jalapenos, halved lengthwise & seeded
4 oz. Cream Cheese (softened)
1 Cup Colby / Jack Cheese, Shredded
1 Tbsp. Salt
1 Tbsp. Freshly Ground Black Pepper
1 Cup BBQ Sauce
20 Slices Bacon
1 tsp. All Purpose Seasoning (ex: Lawry's)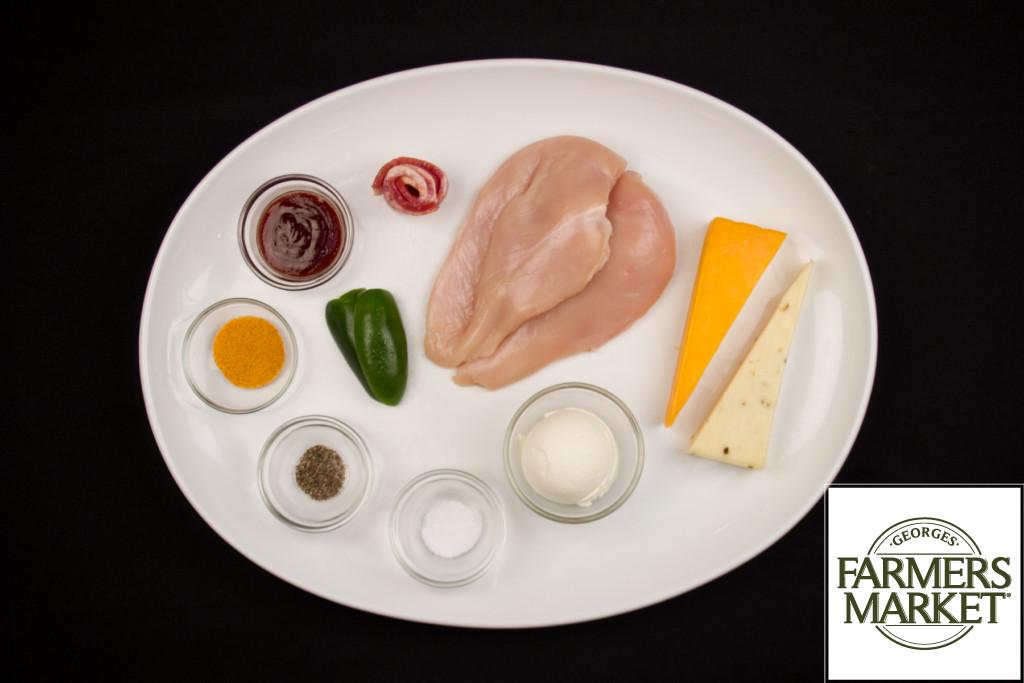 Preparation
Lay the chicken breast flat between plastic wrap, pound the breast until it is equal thickness throughout. This will ensure even cooking.

Season both sides of the chicken breasts

Mix the cheeses together; add the All Purpose Seasoning and mix well

Fill the center of each Jalapeno half with the cheese mix

Place the pepper on the chicken breast and wrap it up. I suggest placing the pepper cheese side down so it gets completely covered by the chicken. Wrap each chicken breast completely with two pieces of bacon. Start at one end, wrap half the breast and finish the 2nd half with the other piece of bacon.

Cook on a preheated 350° grill over indirect for 30 minutes or until chicken is done. Turn every 5 minutes and baste with barbecue sauce each time you turn it.